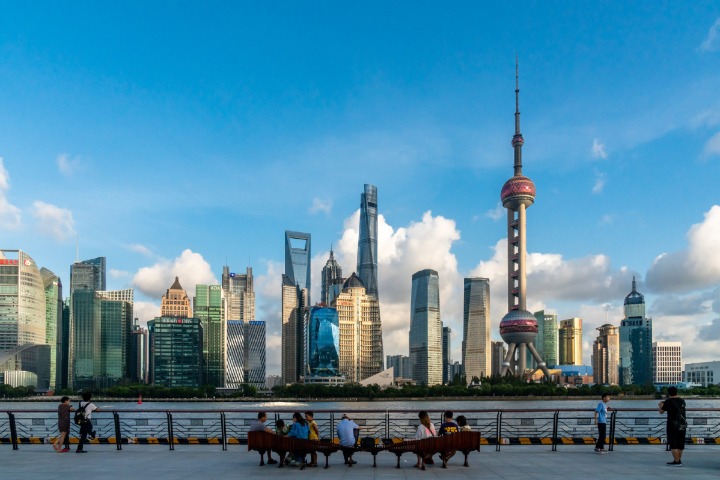 Forum sees confidence in city going green
Multinationals point to promising prospects in Shanghai
Representatives of major multinationals expressed their confidence in Shanghai's economic resilience and green development at the International Business Leaders Advisory Council forum for the Mayor of Shanghai on Friday.
The IBLAC Forum, an annual competition that has served as a channel of communication between international companies and Shanghai mayors since 1989, was held for the 34th time this year. The theme was "low carbon green development and urban sustainability". About 40 senior executives from 16 countries and regions have joined the online forum.
Leaders in attendance praised China's business environment and Shanghai in particular. The world's largest insurer Allianz is optimistic about China's long-term development despite the current global uncertainties, according to Oliver Baete, CEO of Allianz SE. He added that Allianz has seen "tremendous growth" in the Chinese financial market over the past decades, which has made it easier for foreign companies to enter the country. He also added that Shanghai's municipal government is "particularly welcoming" to foreign investment and that, along with the large number of top universities domiciled in the city, it is particularly conducive to the activity of multinational companies.
Allianz has nurtured a series of environmental, social and governance investment plans in China, particularly in Shanghai. Its asset management arm teamed up with business partners to launch an ESG product earlier this year, with an initial scale of 2 billion yuan ($281 million). Allianz is also building onshore funds in China to expand sustainable investment opportunities in the country, Baete said.
Baete's words were echoed by others at the meeting, such as Martina Merz, CEO of German multinational conglomerate ThyssenKrupp AG, who remarked that, as the headquarters of a variety of world-renowned companies, d scientific research institutes and high-level talents, Shanghai has the ability to play an important role in China's green transformation.
Merz pointed to green hydrogen – a product that ThyssenKrupp has strongly supported – as a possible way for Shanghai to achieve low-carbon sustainable development, adding that Shanghai's rich wind energy reserves, well-equipped ports and global industrial chains provide advantages in production, shipping and application scenarios for green hydrogen.
According to an action plan released by the municipal government in early July, Shanghai will see the total value of its green industry exceed 500 billion yuan by 2025, and at least 200 green manufacturing enterprises will be established in the city.
According to Vivian Bian, CEO of Roche Pharmaceuticals China, Swiss healthcare giant Roche – the first foreign company to set up shop in Zhangjiang High-Tech Park in Shanghai's Pudong New Area – has kept abreast of the Shanghai Ecological Goals. She pointed out that over the past five years, the Roche factory in Zhangjiang has reduced its total energy consumption by 30% and its water consumption by 44%.
Roche will increase its working capital in China this year by 250 million yuan, Bian said. The company also granted its Shanghai Innovation Center independent decision-making capability on research and early development of new drugs this year, making the city an important part of the company's overall strategy. The moves also underscored Roche's confidence in the broader Chinese market, she said.
Shanghai, long a hub of international trade, has extended its gravitational pull. A total of 26 multinationals set up regional headquarters in the city during the first half of this year, bringing the total number of headquarters to 857. Another 10 multinationals set up regional R&D centers during the same period, making of Shanghai the seat of 516 centers of this type. .